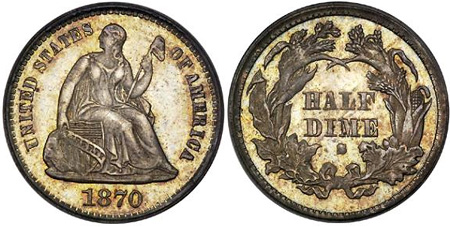 The 1870-S Liberty Seated Half Dime represents a unique rarity in American coinage. Although no half dimes were reportedly struck at the San Francisco Mint in 1870, a single example is known to exist. The coin had turned up in a dealer's junk box of generic coins in 1978 and was first shown to the public at the 1978 ANA convention in Houston, TX.
The cornerstone of the new San Francisco Mint was laid in 1870, and it is believed that this piece might have been struck to commemorate the event. Although it has never been confirmed, it might be possible that a second piece along with a complete set of 1870-S coins remains in the cornerstone of that Mint.
The one known 1870-S Liberty Seated Half Dime is currently graded PCGS MS-63, but was first graded as AU55 with slight wear. The coin exhibits prooflike fields with original toning. This enigmatic coin recently sold privately for $1.4 million.