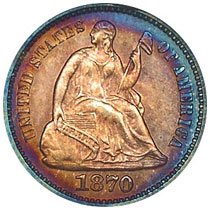 The Liberty Seated Half Dime was struck from 1837 to 1873. During the course of the series, there were numerous modifications to the design, which create an interesting array of subtypes. The end of the series represented the last production of silver half dimes. The denomination was replaced in commerce by the five cent nickel, which had been introduced in 1866.
The obverse of the coins features a depiction of Liberty seated on a rock. She holds a pole in her right hand with a Phyrigian cap on top. Different subtypes of the series have the surrounding fields empty, with thirteen stars, or containing the inscription UNITED STATES OF AMERICA. Other obverse design changes included the addition of drapery from Liberty's elbow early within the series, and the placement of arrows at the date to denote a change in weight.
The reverse features a wreath surrounding the denomination HALF DIME. For the earlier subtypes, UNITED STATES OF AMERICA surrounds the wreath. After the motto was moved to the obverse, the wreath was redesigned with agricultural elements and enlarged. The denomination was also expressed in a larger and altered font.
Although this series is usually considered to be the easiest of the Liberty Seated type to complete, some issues are rare and challenging to locate in mint state grades. At the most extreme measure, the 1870-S half dime has a single example known to exist in all grades, even though none were reported to have been struck. While it usually is not considered to be part of a complete set of Seated Half Dimes it remains as one of the most famous rarities of all American coinage. Other low mintage issues are rare, but obtainable given a sufficient budget.
This site will provide further information about the history and design of the Liberty Seated Half Dime. A basic examination of some of the key dates and rarities of the series is included, along with mintages and coin specifications.