The design for the Liberty Seated Half Dime was influenced by the allegorical figure of Britannia, who had been featured on British coinage. Artist Thomas Sully made a number of sketches based on the concept, and Assistant Engraver Christian Gobrecht converted these into coin designs. The Liberty Seated motif would first appear on the Gobrecht Dollars struck in 1836. These coins are usually considered patterns although a small number were released for circulation. The Mint Director would order the same design to be used on the other silver denominations and the process would begin with the half dime.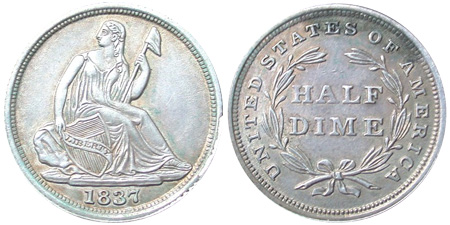 The initial design, known as the "No Stars on Obverse" subtype, would be struck in 1837 at the Philadelphia Mint and 1838 at the New Orleans Mint. The obverse features an image of Liberty seated on a rock. A pole is in her right hand with a Phrygian cap on top of it. She is looking back over her left shoulder, and her right hand rests on a shield with the inscription LIBERTY. The lower field is occupied by the date with the remaining fields left empty. The reverse of the coin features a simple wreath of laurel, open at the top and tied at the base with a ribbon. The denomination HALF DIME appears within the wreath and UNITED STATES OF AMERICA appears surrounding.
The first alteration to the design occurred in 1838 for the half dimes struck in Philadelphia. At this time, thirteen stars were added on the obverse, arranged seven to the left of Liberty and six to the right. The "Stars on Obverse" would be used until 1859, although other design changes would take place during this time.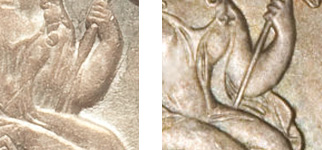 In 1840, the Mint hired Robert Hughes to make modifications to the Seated Liberty design. He made improvements to the figure of Liberty and most notably added more drapery to the left of her elbow. The Liberty Seated Half Dimes with "Drapery from Elbow" would be struck for a portion of 1840 and then for the duration of the series, once again amidst other design changes.

During the year of 1853, arrows were added at both sides of the date. This was done to indicate a modification to the standard weight of the coins. The "Arrows at Date" half dimes were produced until 1855. After the arrows were removed, the newly adopted specifications would continue to be used.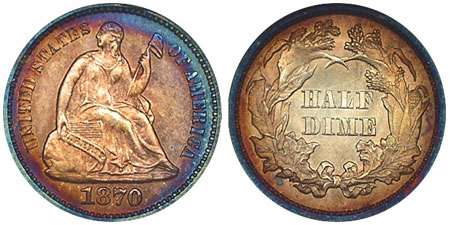 The final subtype and most significant changes came in 1860 when James B. Longacre modified the obverse and completely redesigned the reverse. The stars on the obverse were removed and replaced with the inscription UNITED STATES OF AMERICA, leading to identification as "Legend on Obverse." On the reverse, a new wreath was adopted which was wider and contained different agricultural features than the previous version. The denomination HALF DIME was still within, but in a different, taller font.